Last Saturday our customer from Zimbabwe come to visti our factory, this is a nice and wonderful experience.

At first as we talked with customer, he will arrive in cangzhou xi station 2.30 pm, but the customer missed the flight,so final we picked up customer at cangzhou xi station 7.30 pm. Then we go to the hotel, check in.

Customer require to visit our facotry at night,that also no problem for us, also our boss wait for the customer until to 9.00 pm.That's one reason make the customer feel moved.
After we arrive in our workshop,customer shocked, because there are many and many machines in the workshop. Some are being assembled, some are finished machines. The customer inspect the machine,inspect some part,also took many pictures and vedios. He said "the machine is very strong",this is highly praised for us. We feel pround of the praise.

The photo below is our customer checking the new type material, anti-corrosion insulation polymer metal plate.This is 8 layer plate,can made to be any shape like IBR tile, corrugated tile and glazed tile.The advantage is better anti-corrosion, heat and sound insulation,anti-aging, anti-condensation,and better apperance.The customer show much interest in this new type material and requrie us to put a sample in container when loading the machine.Once approved,they will buy a new machine to produce new type sheet.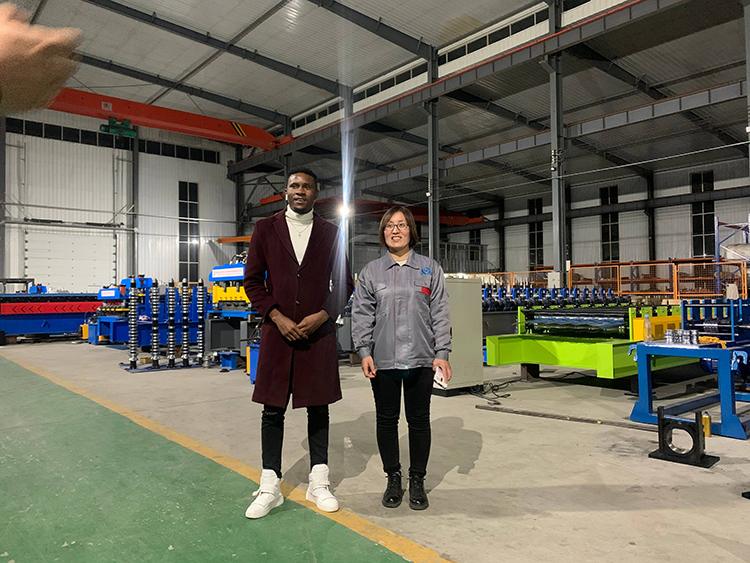 After finishing visit, we have a big dinner of barbecue.The next day we help to book a ticket, it is very smoothly for everything.Customer release the order, happliy cooperate.